Antique Typewriter
Collector Books
and other resources
---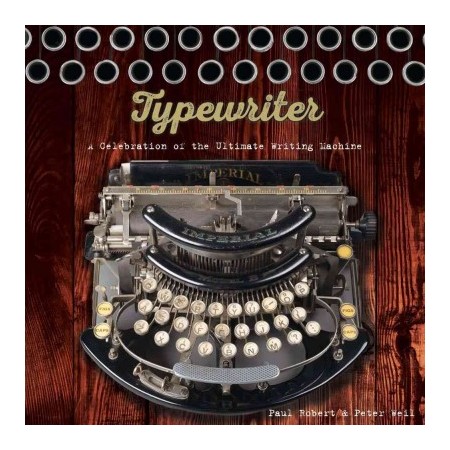 Typewriter: A Celebration of the Ultimate Writing Machine by Paul Robert and Peter Weil. This book celebrates the typewriter with images of some of the most beautiful, curious and heralded typewriters in history. It features 125 color photographs tracing the typewriter's evolution from the nineteenth through the twentieth centuries. It also includes vintage advertisements, photographs and other memorabilia. Published by Sterling Books and priced at about $25.
---
The Typewriter Revolution: A Typist's Companion for the 21st Century, by Richard Polt. The Typewriter Revolution documents the movement and provides practical advice on how to choose a typewriter, how to care for it, and what to do with it. It celebrates the unique quality of everything typewriter, fully-illustrated with vintage photographs, postcards, manuals, and more. Published by: The Countryman Press and priced between $20 - $25.
---
Antique Office Machines, Office Collectibles and Mechanical Typewriters, three books by author Thomas Russo
and published by Schiffer Books. This series of books cover just about all aspects of office collectibles from office
advertising memorabilia through mechanical office machines. Well illustrated and documented. Priced between $39 - $59.
---
The Typewriter, An Illustrated History by Dover Publications, Mineola, NY 11501, Published in 2000. This is
a reprint of the original 1923 Typewriter Topics - History of the Typewriter, on the fiftieth anniversary of the invention
of the typewriter. Approximately 115 pages filled with history, advertising and images of historic typewriters. A first-
hand account of what the 1920s typewriter industry recalled about its early days. A Great Book! Priced at about $15.

---
Antique Typewriters & Office Collectibles by Darryl Rehr, 1997. Includes typewriters, adding machines,
check writers, ribbon tins and other office collectibles. Photos, some history and a general flavor for the hobby
of collecting this sort of memorabilia. Out of print but still available on-line and in most book stores at a cost of about $25.

---
Antique Typewriters, From Creed to QWERTY by Michael H. Adler, 1997. Michael Adler's second effort at
writing the history of the typewriter. Includes many photos, some in color and additional history not included in his
first effort on the subject. Retail price is about $59 and is available at most book stores.
---
American Typewriters - A Collectors Encyclopedia by Paul Lippman, 1992. Mr. Lippman compiled a wealth
of information between the covers of this book. Contains illustrations of most early American typewriters and
represents a lifetime of collecting knowledge and information. One of my personal favorites. Unfortunately,
it's no longer available through normal distribution channels. Look for it where you'll find used books.
---
The Typewriter Legend edited by Frank T. Masi, a 1985 promotional publication published by
Matsushita Electric Corp. of America, otherwise known as Panasonic, when they were in the business
of manufacturing typewriters and sought to establish themselves as a force in the typewriter industry.
This book contains 124 pages and 116 photographs including many typewriter rarities.
Try Panasonic Industrial Company in Secaucus, NJ. - ISBN 0-9614386-0-6 .
---

Century of the Typewriter by Wilfred A. Beeching, 1974. The author states in the preface, "After much sifting
and sorting, I was able to produce this book, a comprehensive history of typewriters...It can be read as a story
from cover to cover, or used for reference purposes..." This book is loaded with photographs. SBN 434 90120 2 .
---
The Wonderful Writing Machine by Bruce Bliven, Jr., 1954. A classic from the early days of typewriter
collecting. It's out of print, but worth taking the trouble to find. Check your local library for this one.
---
Old Typewriters by Duncan James, Shire Publications No. 293, part of a series on antiques & collecting. Old Typewriters
covers the history and evolution of the typewriter with many photos and illustrations from European typewriter collections.
Contact: Shire Publications Ltd, Cromwell House, Church Street, Princes Risborough, Buckinghamshire HP27 9AJ, UK
---

The Carl P. Dietz Collection Of Typewriters by George Herrl, Publications In History No.7, Published by the Board of
Trustees, Milwaukee Public Museum in 1965. This publication contains one hundred pages of photographs of the Dietz
Collection of typewriters which was assembled in the 1930's and includes many typewriter rarities seen nowhere else.
Supplies of this book are no longer available.
---
Womans Place Is at the Typewriter by Margery W. Davies, 1982. Womans Place explores office work
and office workers from 1870 - 1930, the period which saw both woman and typewriters enter the office.
Temple University Press ISBN 0-87722-368-8
---
The Writing Machine - A History of the Typewriter by Michael H. Adler, 1973. This book represents a
remarkable effort to document every early typewriter that ever existed.
Out of print but your local library should have a copy of this one.
---
Antique Check Writers: - A Collector's Guide From A to Z by Michael A. Brown, 1999. This previously
undocumented field has long been in need of this type of book and I can think of no one better than Mike to put it together.
It is chock full of photographs, patent drawings, dates, biographies of inventors and much more (including price ranges)!
This is a completely original, comprehensive research and is new to the field of office machine collecting. Contact:
Michael A. Brown, PO Box 52607, Philadelphia, PA 19115. 215-934-7998. email: typex1@aol.com
---
The History of The Typewriter in the United States From 1933 Through 1977 by Ed Quiring, 1979.
This book concentrates mainly on typewriters manufactured during the period specified in its title but also includes
a chronological listing and compilation of information on early typewriters prior to 1933. This manuscript was originally
submitted as Mr. Quiring's doctoral dissertation and is one of the lesser known typewriter resource books. The
reproduction of photographs in my copy is poor but the book itself contains an abundance of typewriter information.
It can be obtained from University Microfilms International, 300 N. Zeeb Rd., Ann Arbor, MI 48106.
Telephone (800) 521-0600 or (313) 761-4700. The publication is #8011576.
---
Links to other typewriter and office related websites:
(borrowed from Richard Polt's list of typewriter web sites)
Nick

Beland's

Typewriter Pages: A teenage typist offers much to explore in this web site.

Arnold Betzwieser shows us his collection, including many German machines, with careful historical and technical notes. In German.
Mike Campbell's Typewriter Page: this long time collector joins the Web with some useful tips on packing typewriters, as well as other nice features.
Swiss collector Philippe Campiche shares his collection with us. In French.
Coleccion Meccanismo (in Spanish)
From Brazil, typewriter collector Fernando Costa has created an excellent site where you can see some of his rare machines. In Portuguese.
Davis Typewriter Works: Will and Dave Davis' blog about their typewriter discoveries.

Aurelio Dragonetti shows off his collection in this web page. In Italian.
Plustype is a German/English site created by Markus Elster, showcasing the extensive collection of the late Tilman Elster.
Don

Feldman

shows us his typewriters at Typewriter Fever.

German collector Lothar K.

Friedrich

displays his machines.
Greg

Fudacz

presents The Antikey Chop Typewriter Collection.

Juan Ramón Gracia of Spain displays his collection at Typewriter House Collector.
Eduardo Guillem shows us his beautiful collection at Prehistoria de la Informática. In Spanish.

Antique Typewriters by Martin Howard: a lovely site showcasing the typewriters of this Canadian collector.
The S.L. Johnson Typewriter Page: this collector lists the various writing machines and related items that he's accumulated, plus has special tributes to Corona and Oliver.
Jan Kaluza of Tychy, Poland, presents his own online typewriter museum. In Polish.
Bryan

Kruk

has created Typewriters 101.

William Lawson presents his collection at Typecove.
André

Loir

shows us the machines he has restored and is restoring. In French.

Antonio

Luce

runs a blog based on his knowledge and collection at scrivevo.blogspot.com.

Teacher Mark D. Martin presents fine photos and lots of information about his collection, mostly consisting of mid-century portables.
Adolf Mayer collects and restores typewriters; he shows us photos of a few of his machines. In German.
Morton Typewriter Collection: a list and photos of the machines belonging to young collector Jett Morton, and links to articles about him.
Theodore Munk's collection is small but beautifully documented.
Swedish Typewriter Page: an attractive site created by Christofer Nöring, with beautiful pictures spanning a century of writing machines. In Swedish, with English summaries.
Raivo

Oravas

shows us his beautiful mid-century portables. In Estonian.
John Payton's site shows off his typewriters as well as his Model A Ford.
Ettore Poccetti's site features large photos of machines in his collection in Italy.
Richard Polt's long running Classic Typewriter Page offers a unique look into the world of vintage typewriters.
Chestnut Ridge Typewriter Museum: a handsome set of photos of unusual items from the collection of Herman Price.
German collector Hartmut Quast's site offers some nice pictures of his collection.
Martin Rice presents the Johnstown Type Writer Conservatory, with articles on his collection and notes on "type writer" history.
Lady Typewriter: Englishwoman Janet Riding's perspective on typewriter collecting includes photos of her collection and a great deal of information.
De Schrijfmachinist (the writing machinist) is a mysterious collector who shows us his or her typewriters here (in Dutch).

Machines of Loving Grace: W.A. Seaver shows off and discusses his collection, featuring many midcentury portables as well as a variety of other machines.
John E. Simmons shares his collection with us and offers downloadable user's manuals and repair manuals in PDF format.
Swiss collector Georg Sommeregger's typewriters.ch not only shows us his own collection but he also blogs.
typewriter.be: a big and beautiful site created by Belgians Wim Van Rompuy and Guy Pérard.
typewriter-museum.lv: A site based in Latvia. Link goes to the English version.
Additions are always being made to this site, so please check in often.
If you would like to have a website linked here, please contact me at the email address below.
---

Send comments and e-mail to Anthony Casillo: typebar@aol.com

Return to: Antique Typewriter Collector's Web Site

---
Copyright © 1996 - 2017, by Anthony Casillo. All rights reserved.
www.typewritercollector.com
This site was first created on May 15, 1996
---